Tree Services Gresham Oregon
---
---
Tree services in Gresham Oregon includes tree removal, tree trimming, stump grinding, tree pruning and emergency dangerous tree removal for all of Gresham and surrounding areas.
Whether it is trimming your favorite fruit or shade tree, shaping your hedges and shrubs or removing the 100 ft fir next to your home. Stump removal, brush chipping and clean up are also part of our service. We are also qualified to do Tree Risk Assessment. TRAQ is an ISA qualification program that trains arborists how to use the methodologies outlined in the ISA Best Management Practices for Tree Risk Assessment. This qualification promotes the safety of people and property by providing a standardized and systematic process for assessing tree risk. The results of a tree risk assessment can provide tree owners and risk managers with the information to make informed decisions to enhance tree benefits, health, and longevity
Call 503-777-8733 for a free estimate by a Certified Arborist
*AERIAL BUCKET SERVICE /CRANE/LIFT EQUIPMENT
are available – Where accessibility permits, we use a Bucket Truck and/or a Crane Truck.
We were so blessed to have found Treekeeper Tree Service. What an honest business owner! Our tree had fallen and actually split between our yard and our neighbors yard during one of the worst wind storms in years. We called around to get quotes on removing it and were in total shock at the amount that companies were going to charge! When we called Treekeeper Tree Service, Dan answered the phone and listened to what happened and what we needed done. He himself went out to our house the same day and called me back in a few hours to give me a quote. I could not believe my ears and had to repeat the quote back to him to make sure I heard right! It was affordable and not only that, he was the only business owner who assured us that the removal would not further damage to our fence or my neighbors tool shed (which the tree was partially laying on). The very next day Dan and Juan showed up to do the work and were amazing to watch. They were precise and so careful, professional and so fast. In just 2 hours they had every bit of the tree cut up and our property cleaned up as if there were never here. Our favorite part about this experience is that Dan took care of the whole transaction himself from beginning to end. He is an honest man who has a wonderful work ethic and trust in people you just don't find in the world anymore. We will recommend his company till we are blue in the face!
There are times when, because of poor health or landscape design, trees have to be removed. Using proper techniques and equipment we can remove trees of all sizes. It is your choice to have the wood removed or left for firewood.

Proper pruning improves the health and appearance of trees, prolongs life within the tree and encourages thriving lawn growth beneath it. Through trimming, dead, dying or diseased wood is removed, shape is enhanced, and limbs can be raised to clear height. Someone without this experience and training could actually damage the tree, jeopardizing its future health. We also prune and trim fruit trees of all varieties.

Stumps of any size can be removed by utilizing a stump-grinder. Stumps can be ground up to 18″ inches below grade with grindings being either raked back into the "hole" or removed.

BRUSH CHIPPING
Standard procedure is to remove all brush and tree debris by sending it through a brush chipper. Often customers choose to keep the woodchips and use them for landscaping mulch or playground bases.

Hedge and shrub trimming and shaping.

NEED A CERTIFIED ARBORIST?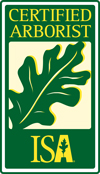 Servicing Gresham and surrounding areas
Dan Sorenson
Oregon CCB# is 67935. Owner and ISA Certified Arborist (#PN-0234A)

---

---